Sunbet is a South African sports betting and casino site known for its incredible bonus offers available to new and existing players.
Promotion is critical to online gambling, and Sunbet scores pretty high. From general welcome bonuses to reload bonuses and even no deposit bonuses, there is an array of offers available to players as of 2023.
In this article, we will explore some of these options by Sunbet, as well as how they work.
Types of Bonuses Offered at Sunbet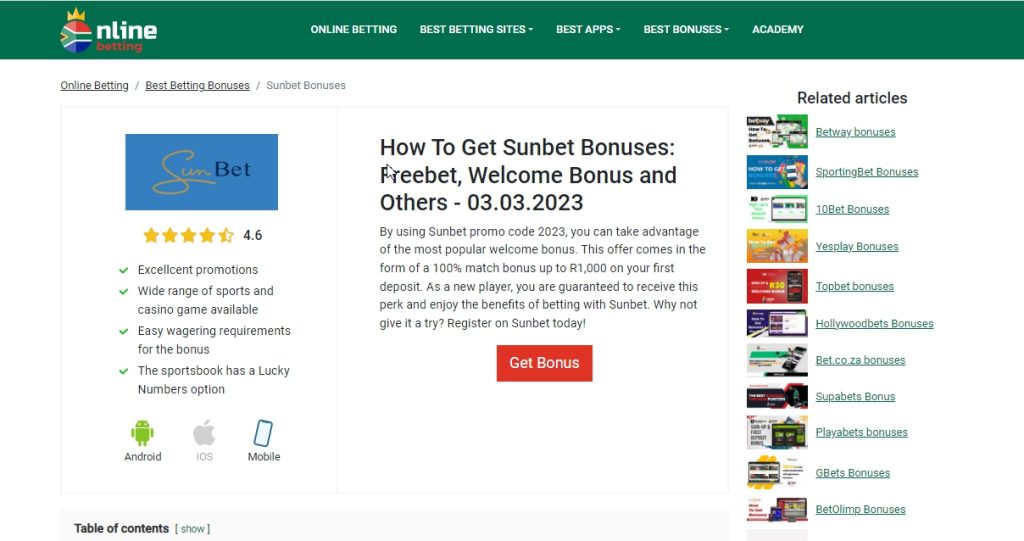 The bonuses offered at Sunbet depend solely on the season of the year. Sunbet no deposit bonus codes are available for players and other exclusive rewards in some festive seasons.
However, some primary bonuses remain untouched on the site, regardless of the time of the year.
Sunbet Slots Promo Code
With a Sunbet promo code, you can unlock huge winnings on several slot games and even stand a chance to hit significant jackpots. The bonus takes a straightforward approach, so once you claim it, you can pick your favorite slot from the list of top games and start your journey.
This bonus gives eligible players free slot bonuses worth R250 and is usable on most slot games on the site. Also, the promo code and bonus value depend on the year's season.
The Sunbet promo code 2023 featured the code 'NEWBONUS' as an entrance offer to 2023. However, slight differences may be in the codes and availability of the offer according to the season.
Deposit and Get Bonus Offer
Sunbet offers a deposit bonus available to all new players on the site. This bonus gives qualifying users a 100% matching bonus up to R1000, available only on the first deposit.
As a new player on the site, you can unlock this bonus by making a deposit of at least R100 and covering the 3x wagering requirements.
Once you receive this bonus, you must use it within the first three months, or the prize becomes void.
Other than this bonus, additional seasonal 'deposit and get bonus' offers are available on the site.
Free Bet
The free bet offer in Sunbet is yet another reliable reward offer. However, unlike some other bonuses, it is only available to existing users on the site. You can use a free bet offer just as real money in your account. However, the system deducts your stakes from every win. Thus, placing an R20 free bet on a combination of 4.00 odds will generate an R60 win.
This offer is only available once and is not usable on different accounts on the same device. Also, there may be slight differences in the free bet value you receive, depending on your activities as a player.
Profit Boost
A profit bonus in Sunbet allows you to earn extra percentages on placed bets. You must activate the boost offer on the promotions page to utilize this offer.
As expected, profit boosts are only available to existing users on the site and apply to possible winnings. Suppose you have a 100% profit boost on an accumulator of about 5.00 odds. The profit boost would boost your cash outcome to 9.00 odds in that case. Rather than increasing the odds itself, the profit boost increases your total winnings.
Odds Boost
The odds boost bonus works similarly to the profit boost. However, it focuses more on increasing odds than potential wins. The Sunbet odds boost feature gives you slightly higher odds than usual. They often indicate these boosted odds with the previous and updated ones. Suppose a sports event has original odds of 3.00. In that case, an odds boost can raise it to 3.50 or even 4.00, and it will be indicated as a boosted odds on the betting page. Of course, your stake counts towards the increased odds, so the winnings are often more significant.
Sun MVG Loyalty Program
Sunbet offers a unique MVG loyalty program for VIP members. The program allows you to access several benefits across Sunbet casinos, hotels, and other services. If you already have an MVG number, you can update your account details on the site to gain access to these rewards.
You earn leisure points for playing table and slot games, betting on the site, and using their hotel and dining services.
Guide on How to Claim and Use Bonuses at Sunbet
Create an account and make a deposit
Open the official Sunbet website, click the signup button, and fill in all required details. Upon signing up, verify your account and make a first deposit of at least R100 using your preferred method.
Check the terms and conditions of the bonus offer
Visit the bonus terms and conditions page of the casino from the bottom area of the Sunbet website or the promotions page.
Follow the instructions to claim the bonus
Carefully review all bonus instructions to avoid disqualifications, and insert all bonus codes where necessary. Also, you must observe the minimum deposits for each bonus to ensure you are on the right track.
Use the bonus funds to place bets on eligible sports and events
Once you receive your bonus cash, you can bet on all eligible sports games to start making a profit. However, you must meet all bonus requirements before requesting a cashout, or your funds will become void.
Conclusion
The bonuses in Sunbet are easy to claim. With the 'deposit to get the bonus offer,' you must meet the minimum deposit as specified in your account as a new player. You can receive offers from the promotions page for bonuses like the profit and odds boost. For free bets, Sunbet gives offers to existing players according to their activities.
These bonuses all offer many benefits to players as they increase potential wins. Generally, betting bonuses allow players to place bets and win real money without using real deposits. Thus, you can bag a massive win without spending money if you are lucky enough.
These bonuses are suitable for both new and existing players at Sunbet, as they are effortless to use. As a bettor in South Africa or any other region, you can signup up to the site to access all these offers.