Kenya's eCitizen platform has eased the process of accessing many government services such as company registration. In this step-by-step guide, you will find out how to register a company in Kenya.
What Will You Need?
The company registration process takes place online on the eCitizen platform. You will, therefore, need an eCitizen account to get started.
You can create an account as a Kenyan citizen, a foreign resident, a foreigner seeking a Kenyan visa, or as a business registered in Kenya.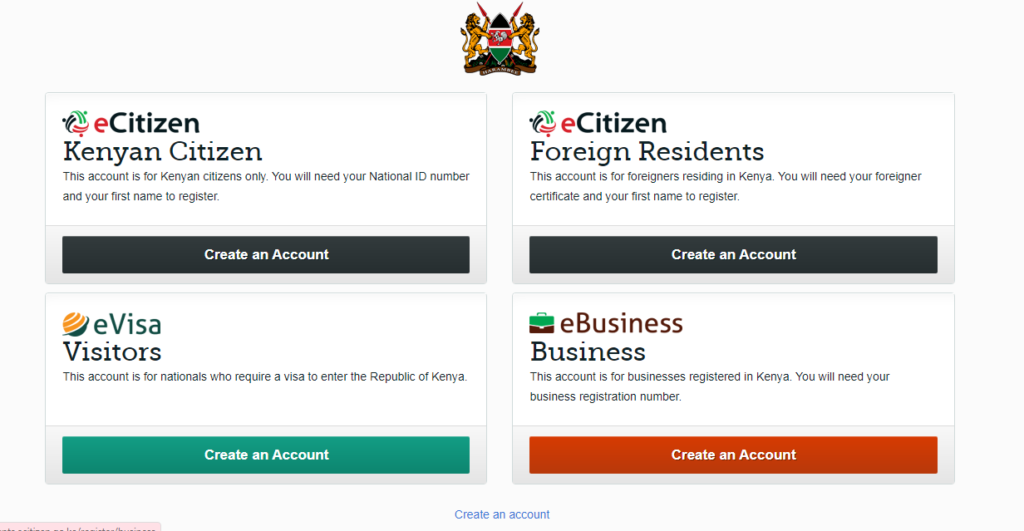 Other requirements include:
Three company name ideas
A soft copy of your national ID or passport
A PIN certificate from the Kenya Revenue Authority
The name of directors
Company registration fee
A passport-sized picture in soft copy
A National Social Security Fund card
A National Hospital Insurance Fund card
Company email address
Postal address
Phone number
Registering a Company in Kenya
Once you have created an eCitizen account and gathered all the documents that you need, go to "Business Registration Service" and click "Get service." Next, click on "Make Application" to begin the application process.
The platform will display some of the options shown below.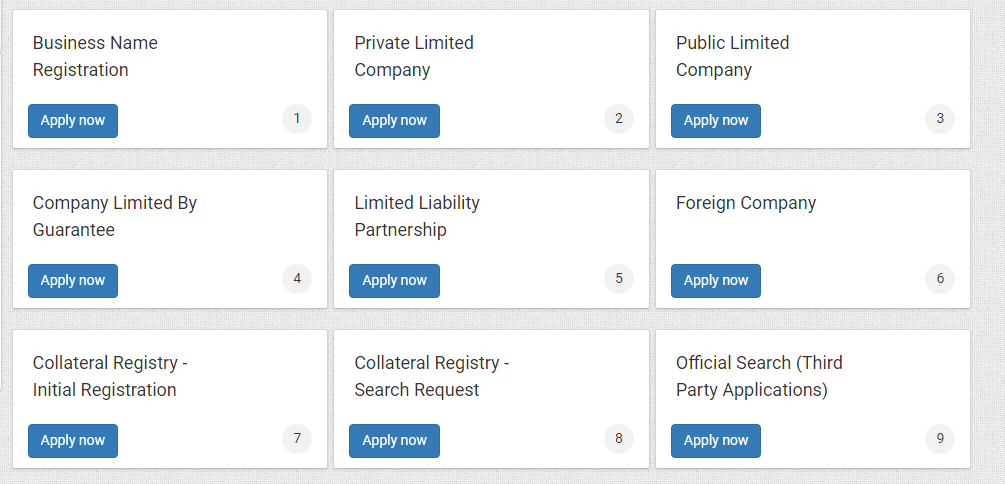 If you are not familiar with the different types of companies in Kenya, you can ask for help from a firm or a professional that helps individuals with company registration. Alternatively, you can download the Companies Act of 2015 to learn more.
After deciding the type of company that you want, click "Apply Now" and enter three company name options. Note that there are specific instructions on how you should name your company. For instance, if you decide to apply for a private limited company, your company name should end with "Limited" or "LTD."
Also, if your new company is affiliated with an existing business, you should specify this under the special instruction field.
Name Search & Company Information
Once you have entered the company names in order of preference, proceed as follows:
Submit the company names by clicking "Save and Continue."
Pay the required name search and reservation fee of Kshs 150 via the accepted payment methods. Some of these methods include M-PESA, Pesalink, debit card, and EazzyPay.
If the company names you have chosen already exist, then you will have come up with new names. However, if the company names do not exist, the registrar of companies will approve your first preferred company name.
Once approved, the next step entails filling the company information such as location, physical address, number of employees, and business start date on form CR1. Furthermore, you should enter the details of all the company directors by typing in the name, nationality, postal address, phone number, email address, and ID number of each.
In form CR8, enter the names of all the directors and their residential addresses.
Next, fill in the nominal capital form with your company name and legal name. Additionally, add your company's capital in Kenya shillings on this form.
The Kenya Revenue Authority (KRA) should seal the nominal capital form. Therefore, you need to pay a stamp duty which is one percent of your nominal capital.
Get an advocate to write for you a memorandum of association (form CR2) and articles of association. The memorandum of association contains your company name, the shareholders, and the value of every share. On the other hand, the articles of association detail the rules and regulations of your company like the powers the directors have, the shareholders' rights, and the procedure of appointing and removing directors.
Final Steps
Once you are done filing all of the above documents, do the following:
Send all the required documents in a sealed envelope to the registrar of companies and pay the company registration fee of Kshs 10,650.
Once the registration process is complete, you will receive a certificate of incorporation to your eCitizen account after about three to five days. Download the certificate and store it safely. You will also receive all the forms mentioned above including form CR12, which shows the details of your company and the date the registry started holding your company's records.
It is imperative to note that part of the company registration process also includes applying for a KRA PIN for your company. You can do this with the help of an accounting firm.
Once everything is complete, you can proceed to open a company bank account and start conducting business.
To receive updates on all things business and tech in Africa, subscribe to our free weekly news roundup.