If you've been around the crypto space for quite some time, you've probably heard about blockchain. This technology is the powerful mind behind cryptocurrencies like Bitcoin (BTC), Ethereum (ETH), Tether (USDT), and thousands of others. But aside from these ingenious digital coins, blockchain is also popular for another use-case known as decentralised applications (DApps). 
In this article, we'll walk you through what DApps are and how they work, particularly those that are based on the Ethereum blockchain. Let's get started.
What Are Decentralised Apps?
Decentralised applications, most commonly known as DApps, are digital programs or applications that don't run or operate under any central authority. Simply put, they're independent. DApps, like cryptocurrencies, also run on a specific blockchain or peer-to-peer (P2P) network of computers. 
Remember how robust and secure Bitcoin's network is? The same kind of security and immutability applies to every application that's built on a blockchain network. Once it's out there, that application, along with its data, will be on the network forever. No one will be able to alter or remove it—not even its creator or developer. Not unless hundreds of thousands of blockchain users unanimously agree to do so—that's pretty tough work to do.
Decentralised Apps vs. Standard Web Apps
To help you better understand what DApps are, let's compare them with standard web apps, such as Twitter and Slack. These apps and other standard programs installed on your phone when you buy it often run on a computer system governed and operated by a company or organisation. This means that those applications can't and won't run without a central authority.
Decentralised applications, on the other hand, can run and operate alone. Some DApps even run on computers that are part of a blockchain network or P2P networks, allowing multiple users or participants to use it. Let's take BitTorrent for example. This application enables many users to consume, feed, or seed content. Users can also perform these functions at the same time.
Where Can DApps Be Used?
According to the data from the State of the DApps, there are over 3,700 DApps that have been developed until today, with daily active users of nearly 180,000. On the Ethereum platform alone, over 2,800 DApps have been created, with over 88,000 daily active users.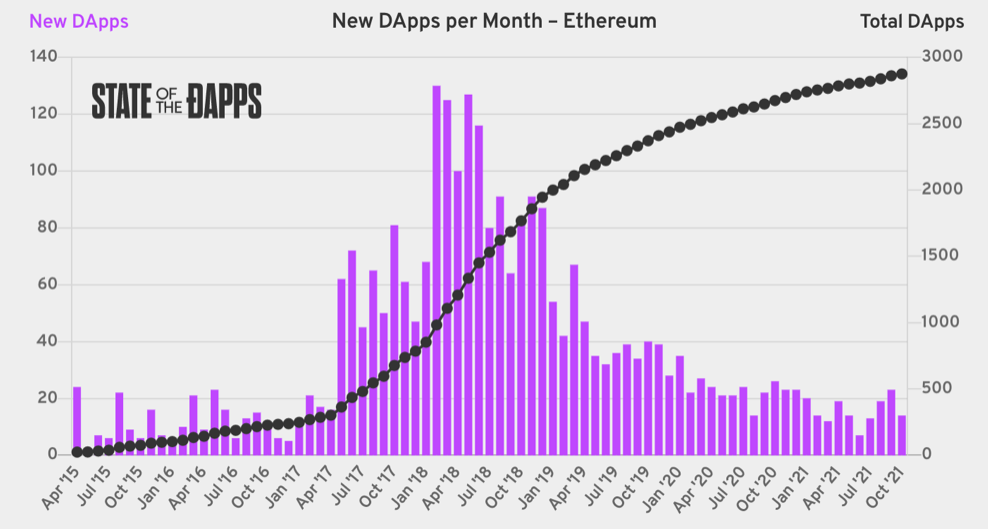 Source: stateofthedapps.com, New Decentralised Applications per Month (Ethereum) 
From our previous discussion, decentralised applications sound promising, especially those built on the Ethereum blockchain. The Ethereum network was made for creating decentralised applications and most of these programs are used in different businesses for various purposes.
In case you didn't know, DApps are used in the gaming industry. You've probably heard about some of the top non-fungible token (NFT) games like Axie Infinity and CryptoKitties. These are just some of the thousands of games that use the Ethereum network. Here, you can enjoy playing fun games while earning money on the side.
These kinds of games are also known as play-to-earn games. CryptoKitties, for example, allows you to earn money by breeding and collecting digital cats or so-called "furrever friends." In this game, you must learn how to buy Ethereum since this is the currency you'll use to buy and sell adorable cats on the platform.
In case you haven't tried it yet, many P2P exchanges now allow you to easily convert BTC to ETH. This enables many Bitcoin and crypto users to jump-start their adventure in the Ethereum network through DApps.
Apart from gaming, ETH decentralised apps are also evident in the financial sector. Many financial institutions and companies are exploring the potential of DApps to provide their users with tools that can help them efficiently manage their finances. This includes the customers' savings and other financial assets—both in fiat and cryptocurrency. 
Some industries use DApps for point systems in loyalty programs, while others try it out for decentralised file storage, carrying out services for personal identification, facilitating voting, and more. Here are some of the fields and sectors that also use or explore DApps today:
Social media
Exchanges
Development
Marketplaces
Security
Property
Energy
Health
Insurance
Governance
The Future of Decentralised Applications
Before we finally wrap up our discussion, let's have a quick review of everything we've talked about earlier. DApps are independent apps—they can run their processes and operate without a single authority. A decentralised app is built on a specific blockchain network—it can be on Bitcoin, Ethereum, and a lot more. 
DApps have started to become very well known in different industries worldwide because of the Ethereum network. And because of the powerful technology and innovation the network offers, DApps are growing in number. It's safe to say that soon enough, we might see more decentralised applications emerge for different purposes in various industries worldwide.
*The content of this article is for informational purposes only. You should not construe any such information or other material as legal, tax, investment, financial, or other advice. You should carry out your own independent verification of facts and data, do your own research and may want to seek professional advice before making any decisions.