Shopping online is not only convenient but also fun. To help you with your shopping experience on Jumia Kenya, this guide will teach you how to create an account, buy items, and cancel orders.
About Jumia Kenya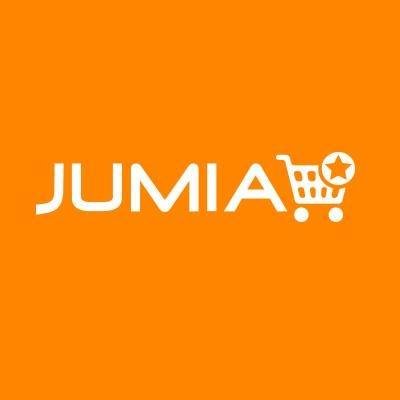 Nigerian-based Jumia is an online marketplace present in several African countries such as Kenya, South Africa, Uganda, Ghana, Morocco, Ivory Coast, and Egypt. After the founders launched the online marketplace in Lagos in 2012, they expanded to five countries including Kenya.
Jumia Kenya was established in 2013 with only three employees. The company's staff has since grown to 1,000 entrepreneurs, including 150 customer service personnel. According to an article on Jumia Kenya, the company pioneered Black Friday in the country.
Jumia is the sister company to HelloFood, Kaymu, Easy taxi, Lamudi, and Jovago, all e-commerce projects of Africa Internet Group (AIG). German tech incubator Rocket Internet, the parent organization of Jumia, is the founder of AIG.
How to Buy from Jumia Kenya
Buying products from Jumia Kenya is easy. First, you need to create an account to make orders. However, you can browse items without creating an account.
To browse products on Jumia, choose the appropriate category, then scroll through the items listed. If you want to learn more about a product, open it in a new tab. You will see the price, the product details, the seller information, the delivery and return information, and the product specifications.
Furthermore, you can find out what other customers have to say about the product by clicking the ratings link.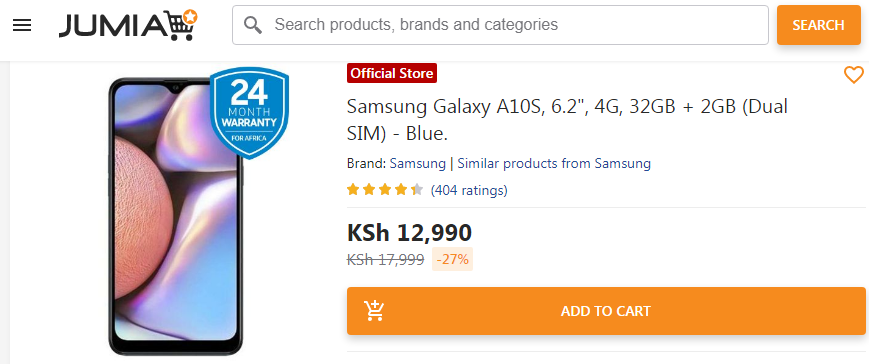 Note that the delivery and returns section is important because it tells you whether you can return a product or not and if it has a warranty. Also, this section tells you when Jumia will deliver the item.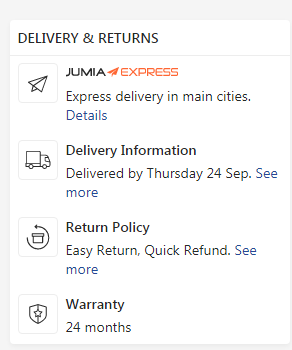 Once you are ready to make an order, add the product to the cart, and continue shopping. When you are ready to check out, click the cart icon at the top of the page and click "Proceed to Checkout." Jumia will then prompt you to create an account or to log in.
Creating an Account on Jumia Kenya
If you do not have a Jumia account, you can create one with your email or Facebook account. Here are the steps you should take when creating an account via email:
Click "Create an Account Via E-mail"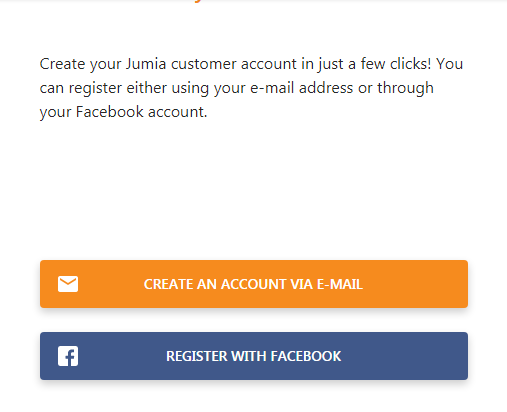 Enter you first and last names, your email address, and your password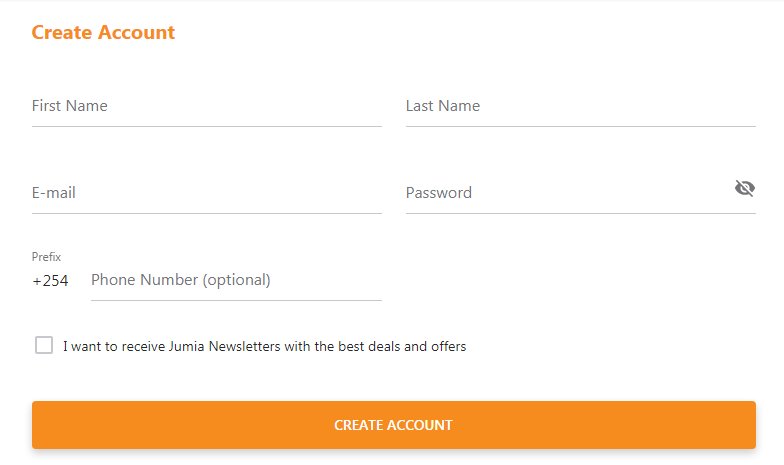 Input your phone number.
Hit "Create an Account"
Enter your default shipping address and proceed to checkout
To register an account through Facebook, follow these steps:
Click "Register with Facebook"
Jumia will redirect you to Facebook. If you are not logged into Facebook, enter your email address and password
Jumia will use your Facebook name, email address, and profile picture to create your account. Click "Continue" to proceed
Once you have a Jumia account, proceed to checkout
Checking Out
After clicking "Proceed to Checkout," select to collect your package from a pickup station or to have Jumia deliver it to your home or office. Jumia Kenya offers home and office delivery at a fee.
While a home or office delivery is convenient, Jumia has made picking up items suitable by opening up pickup stations in as many locations as possible in Nairobi. Click "Select Pickup Station" to choose a location that is convenient for you.
After choosing the delivery method, click "Proceed to Next Step" and select a payment method. You can pick the prepaid payment method or the payment on delivery option.
Also, read the breakdown of costs before confirming the order. Additional costs on Jumia are local delivery fees and VAT. These costs are clearly stated during the checkout process. Jumia accepts payments via M-PESA, Mastercard, and Visa.
Once you confirm your order, you will receive an email and an SMS with your order number. When the item is ready for pickup or delivery, Jumia will send a message to your phone.
Besides Nairobi, Jumia delivers to Eldoret, Mombasa, Nakuru, and Kisumu. Also, if you want to receive your order faster, you should use Jumia Express.
How to Cancel an Order on Jumia Kenya
If you change your mind about your order after confirming it, you can cancel it by calling 0711011011 or filling this form. Jumia Kenya will get back to you after two working days.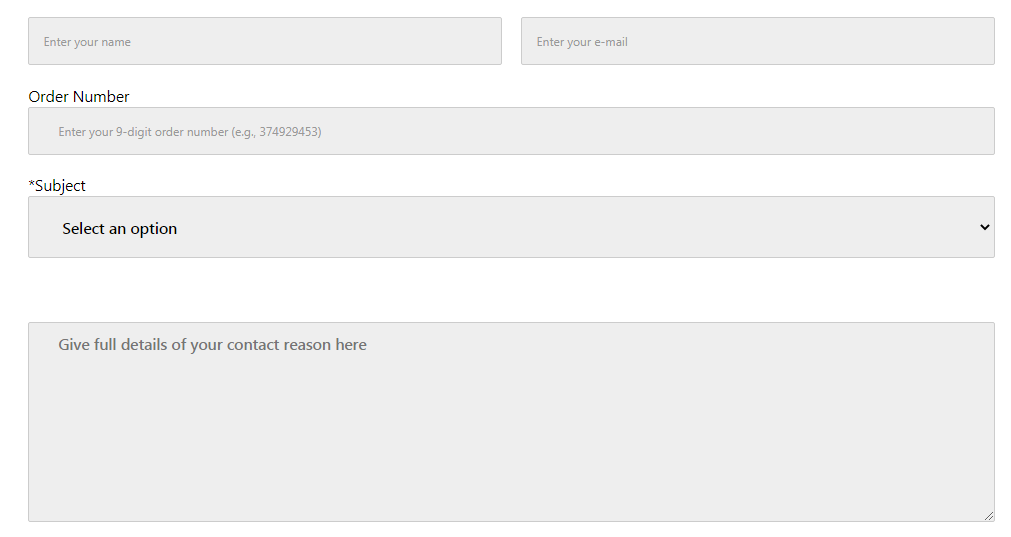 Alternatively, you can go to "Orders" and click "See Details." Next, select "Cancel Item" and enter the reasons for cancelling the order. Click "Submit" and wait for an email with the details of your cancelled order.
You can avoid cancelling an order by reading through the product details and price carefully. Also, confirm the quantity of the item you are purchasing and always ensure that you have read the return policy and warranty details before confirming an order.
Contact Details
To contact Jumia, go to the "Help" tab on the website and select "Contact Us." Fill the contact form or call 0711011011. On the other hand, you can read through the FAQ section to find a solution to your problem.
The FAQ section tackles problems like how to return a product, what to do if your package is missing, and what to do if your delivery is late.
Shopping on Jumia is straightforward. You can shop on your computer or your mobile phone by downloading their app. The app is available for both iOS and Android.
Jumia Kenya also delivers food through Jumia Foods. With this service, you can order food, groceries, alcoholic drinks, medicine, cooking gas, and water.
To receive updates on all things business and tech in Africa, subscribe to our free weekly news roundup.