Vacancy Mail is a digital platform that helps prospective job seekers in Zimbabwe to find new jobs and to increase their employability.
In this guide, you will learn how you can use Vacancy Mail to find full-time, part-time, and freelance jobs in Zimbabwe.
What Is Vacancy Mail?
Vacancy Mail is a career platform where employers advertise job openings at their organisations. Employees also use the platform to search for new positions and to get help in applying for and landing new jobs.  
In addition to job listings, the platform also includes information on scholarships to different tertiary institutions across the world that are open to Zimbabweans.
How To Use Vacancy Mail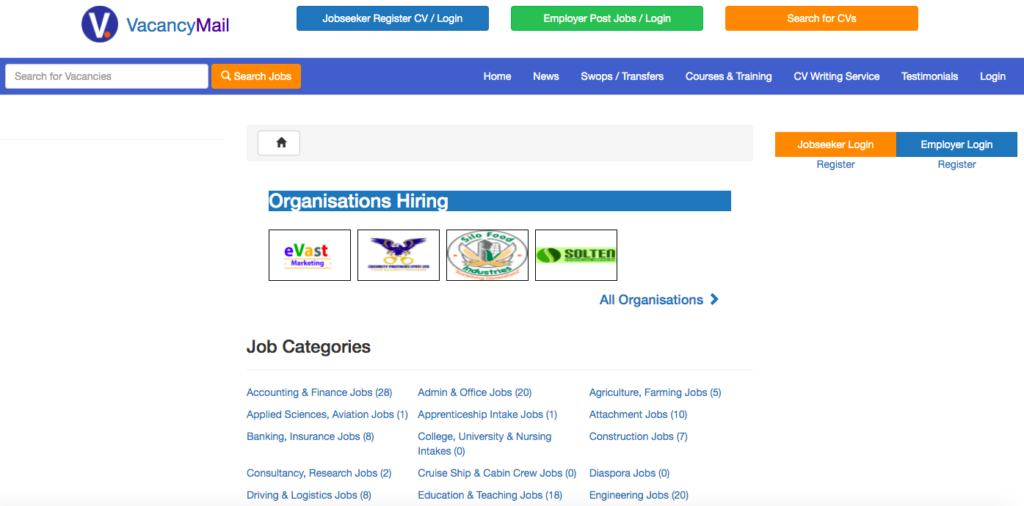 After visiting the Vacancy Mail website, you can view job vacancies on the platform without registering an account. You can search for specific jobs or you can narrow your search by clicking on specific categories on the home page.   
When you see a potential job that piques your interest, you click on the "View Full Ad" option. This will allow you to view more detailed information about the particular job. This information includes the job summary, duties and responsibilities, qualifications and experience, and how to apply.
Where the employer's contact information is included in the "How To Apply" section, you can go apply for the job directly on your own.
However, for some job openings, Vacancy Mail does not show the contact details for the organisation in the "How To Apply" section. In such cases, you can only apply for the job opening through the platform. To do this, you will have to register for an account on the website.
Registering an Account
While on the platform, click on "Jobseeker Register."
Fill in your personal details: first name, last name, email address, password, sex, date of birth, phone numbers, and address.
You will need to select a job category.
After selecting a job category, fill in your field of specialty, the positions you are interested in, and the expected salary.
You will also need to select the check box to allow your profile to be shown to potential employers.  
Click Sign Up.
Upload your CV to Vacancy Mail and add your qualifications and experience.
You can edit your profile and update your details anytime by using the sidebar that is located on the right-hand side. The sidebar menu also has an option to view your recent job vacancy applications.
Premium Packages
Vacancy Mail Zimbabwe also offers several premium services to users that are willing to pay for a little extra service.
One of these premium services is the SMS Alerts subscription. This service allows you to receive alerts when new job listings go online. The SMS Alerts Subscription costs Z$50 for 40 SMS alerts. However, the service is only available to Zimbabwe cellphone networks.
The other premium service that you can use is the CV Writing Service. The platform offers four different packages under CV Writing: General Package, Professional Package, Platinum Package, and Executive Package.
Payment for all the premium services on Vacancy Mail is limited to EcoCash only.
Accessing Vacancy Mail on Other Platforms
Vacancy Mail can also be accessed via WhatsApp groups.
The WhatsApp groups are particularly useful for people with limited data. Reports from the local telecoms regulator, the Postal and Telecommunications Regulatory Authority of Zimbabwe (POTRAZ) show that WhatsApp is the most used broadband service.
To get the WhatsApp Vacancy Mail free job updates, send the message "Vacancymail.co.zw" to the number supplied on the website.
Other Features
Vacancy Mail Zimbababwe also includes some interesting features like the "Transfer/Swop" service. This option can be used by professionals who are already employed who are looking to transfer from one part of the country to another.
This service is particularly useful for people who are employed as teachers and nurses. Transfers to certain parts of the country may be difficult, but if one has someone they want to swop with the transfer goes through without a hitch.
Vacancy Mail also has a Testimonials page where users of the platform share their experiences and relay how their job search went. Finally, the career platform is also working on a Courses & Training service. However, at the moment, the service is not yet available.