The National Health Insurance Fund (NHIF) has made efforts to provide its services online. That means you do not always have to visit its offices to get served. For instance, you can check your NHIF status online through their website, which is a convenient and easy process.
In this guide, you will learn how to check your NHIF status online.
How to Check Your NHIF Status Online
Checking your NHIF account status online is one of the most convenient methods available. Here are the steps you should take:
Visit the NHIF website.
If you are accessing this website for the first time, you will need to register an account. All you need is your membership number, email address, and phone number. Therefore, click the "NHIF Self Care" tab to sign up.

The website will redirect you to a new tab. Enter your ID number and click "Continue"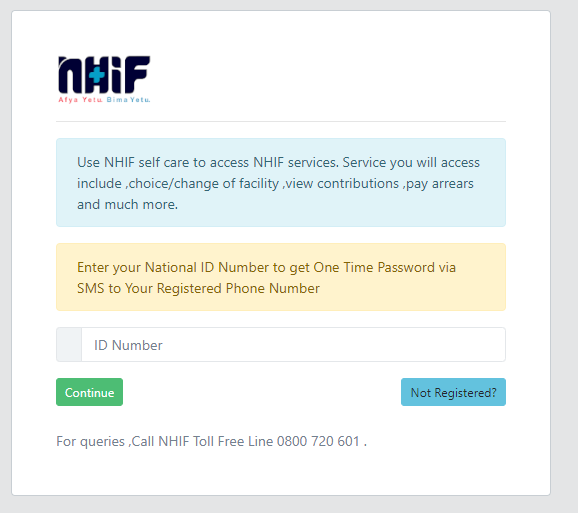 You will receive a one-time password to the registered phone number. Type it into the field provided and hit "Verify." If you registered with a different phone number, you can visit the nearest NHIF office to update. Alternatively, you can contact customer care via customercare@nhif.or.ke or call 0800720601.
Once you are signed up, you can view your contributions, balance, and arrears if you have any.
Other Ways to Check Your NHIF Status
Besides using the website service, you can get your NHIF account status in two other ways: via SMS or email. Below is how you can get your NHIF status via SMS.
Open your mobile phone and tap the icon that allows you to create a new message.
Next, enter 21101 in the phone number field.
In the message field, type in "ID" followed by a space and your ID number. E.g. ID 12345678.
Send the message, and you will receive your account status immediately. Note that it will cost Sh10 to use this service.
On the contrary, you can request your account status via email. Simply send an email to customercare@nhif.or.ke and wait for your statement.
How to Pay Your NHIF Contributions
As a member of NHIF, you are supposed to send your contribution before the ninth of each month. Otherwise, this service will be interrupted.
That said, you can send your monthly contribution through M-PESA or bank payment. When using M-PESA, follow these steps:
Go to the M-PESA menu on your phone and hit "Lipa Na M-PESA."
Select Pay Bill.
Enter 200222 as the business number.
Next, type in your ID number in the account number field if you are making a self-employed contribution. However, if you are an employer, enter the e-slip or by product number.
Enter the amount and your PIN.
Hit "OK" and confirm the payment.
You will receive a message confirming your payment.
When making bank payments, use Equity, Co-operative, or KCB.
How to Reactivate Your NHIF Account
If you have not paid your contribution for more than twelve months, you will have to pay Sh1,500 to start using your card again. However, you will have to wait three months, after which you should resume sending your contributions regularly. This is according to the new rules.
If you have not paid for several months, your account will attract penalties for each month you have defaulted. The late contribution payment is 50 percent of the monthly contribution. Members that have defaulted for up to eleven months will have to wait for 30 days before they can enjoy the NHIF service.
When paying your penalty via M-PESA, add "y" to your ID number. E.g. 12345678y. You should enter your ID number plus "y" as the account number.
Other than the email address and phone number mentioned above, you can also send your questions via Facebook, Twitter, or Instagram. Furthermore, you can check the FAQ section for more information or visit the nearest NHIF branch.
To receive updates on all things business and tech in Africa, subscribe to our free weekly news roundup.