The Higher Education Loans Board (HELB) is an agency under the Ministry of Education that offers student funding. The Board provides student loans, scholarships, bursaries, and partner funds.
In this guide, you will learn how to secure a HELB loan.
Type of HELB Loans
The Higher Education Loans Board provides three categories of student loans.
The first category, jielimishe, is for salaried students. These are people that are employed and are seeking to further their studies. The repayment period for this loan is twelve to 48 months.
The second category is the undergraduate loan for students enrolling in public or private universities via the Kenya Universities and Colleges Central Placement Service (KUCCPS). The repayment period for this loan is 120 months.
Additionally, you can apply for a TVET loan. This loan is for students joining select public universities and colleges, as well as public polytechnics and institutes of technology and technical training.
Once you identify the loan category that suits you, read the requirements, the mode of disbursement, and the amount you will be receiving, and make sure you understand all the details.
HELB Loan Requirements

Before you make a HELB application, there are several documents that you need. Here are the application requirements for salaried students:
An admission letter from a University or College recognized in Kenya
A copy of your last academic certificate that the Commissioner of Oaths has certified
Payslips for the last three months that your employer has certified
A copy of your national ID that the Commissioner of Oaths has certified
Your KRA PIN. The Commissioner of Oaths should certify this as well
Certified copies of two national IDs from employed guarantors
Current coloured passport-size photos
The loan application requirements for undergraduate students are listed below.
Copy of national ID
Parents' copies of national IDs. If a parent is deceased, include a copy of the death certificate
Copies of guarantors' national IDs
A copy of the admission letter and KCSE result slip or certificate
Copy of your bank card for government-sponsored students
A copy of your smart card from the institution
Your colored passport-size photo
The requirements for TVET students are as follows.
A copy of the admission letter
Copy of your ID
The TVET Loan and Bursary Application Form (TLAF) with all the details filled. Print two copies of this form and have the Dean of Students or a Financial Aid Officer stamp it. One of the copies is yours to keep
Next, you should take the filled form and the necessary documents to the HELB Students Service Centre at Anniversary Towers in Nairobi or a Huduma Centre near you.
How to Secure a HELB Loan
Once you have gathered all the documents that you need, you can now move to the next stage by following these steps.
Visit the HELB website
Click "Student Portal" at the top of the page
Select "Create an account"

Enter your ID number and first name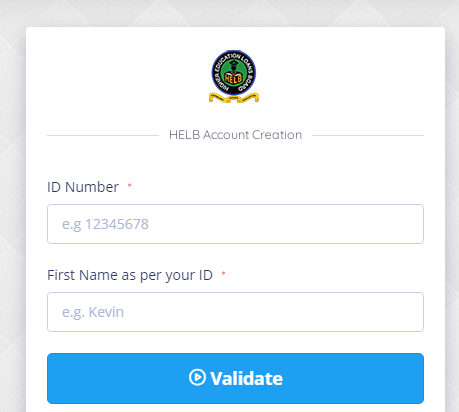 Type in your email address and password
Click "Register"
Open your email to view the email HELB has sent you
Hit "Activate your account"
Log in to your account
Enter your mobile number and click "Send verification code"
Type in the code sent to you and hit "Verify"
To access HELB services, you must fill in your personal details first
Once you are done, click "Loan application" and select the correct loan category
Fill in the application form
Download and print two copies of the application
Attach the documents that HELB requires to one copy of your printed form and take them to the nearest Huduma Centre or the Student Centre (mezzanine one) at Anniversary Towers in Nairobi. Keep the other application form safely at home.
Once the Board approves your loan application, you will start receiving disbursements in your bank account. Note that you should apply for a loan way ahead of the date you are supposed to report to school for your first semester.
Only Get a HELB Loan If You Have to
You should not apply for a HELB loan unless you need it. The reason for this is that you could deny needy students a chance of getting it. Furthermore, repaying student loans is often difficult since the job market does not have a job for every graduate.
In 2019, the Board threatened to list over 67,000 beneficiaries with the Credit Reference Bureau over unpaid student loans amounting to about Sh6.5 billion.
To receive updates on all things business and tech in Africa, subscribe to our free weekly news roundup.