The transport sector in Kenya and the rest of the world has evolved to accommodate our needs as travelers. Today, the most popular taxi companies in Kenya are all ridesharing apps as technology continues to disrupt traditional sectors.
What are Ridesharing Apps?
Ridesharing apps are transport services that are provided by companies to ease the movement of people by allowing them to have access to vehicles on short notice. They operate like traditional taxi companies in Kenya, but in a more organised, secure, and efficient way.
Ridesharing Apps in Kenya
In Kenya, ridesharing apps made a debut in the year 2015, and since then, have caused a disruption in the way people move around the country.
The entry of the first ridesharing app into the market showed the country that there were gaps in the transportation industry. These unique taxi companies brought reliability, making people feel safe to access transport at any time of the day, within the areas that the ridesharing apps cover.
Furthermore, there was increased accountability in the industry in that passengers and riders would be able to use the service without fear of riding with a stranger who might endanger their lives. These apps continue to show travelers that moving around in the comfort of a car does not have to be an expensive endeavor.
How Do Ridesharing Apps Function?
Most ridesharing taxi companies in Kenya have different categories of cars, depending on the service you require. The companies offer two main services:
1. Private cars
With this service, you can access a private car that will take you and/or the people you are with to wherever you want to go without the driver picking up additional passengers along the way.
2. Carpooling
With this service, you access a car heading to where you need to go, but, the driver of this car can pick up passengers along the way.
Top Ridesharing Apps You Can Use in Kenya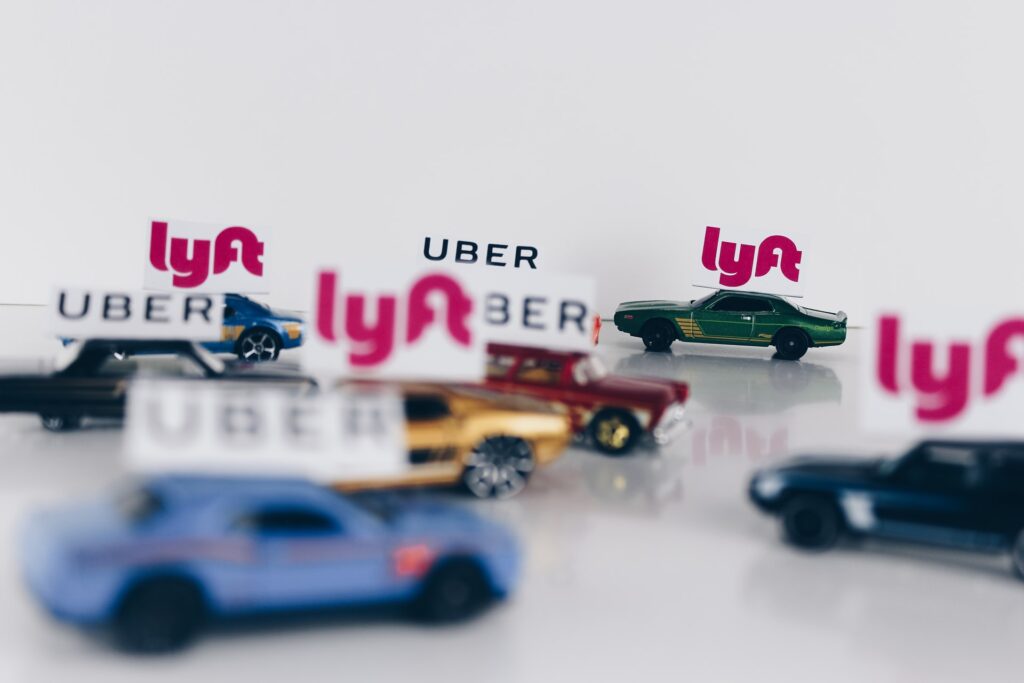 There are numerous ridesharing taxi companies in Kenya that you can use. This list highlights the most reliable, affordable, and widely available ones we could find.
Uber
In 2015, Uber launched the first ridesharing app in Kenya. Over the years, Uber has grown into the leading ridesharing company in the world, operating in over 10,000 cities in 71 countries as of the year 2021.
In Kenya, Uber is available in Nairobi, Thika, and Mombasa with private car rides being the primary ridesharing service offered in the country. The car rides operate in categories such as Uber X, Uber Select, Uber Chapchap, Uber Boda, and Uber Poa (only available in Mombasa). To learn about what each category offers, click here.
For you to access these services in Kenya, you will be required to download the Uber app from Apple, Google Play, and Microsoft. After this, you can register as a new user and then, input your destination. You will then be able to see your price estimate upfront before booking – depending on the distance and time of booking, and lastly, you can request your ride.
In Kenya, the carpooling option by the company has not yet been launched, instead, Uber is making headway in the food and products delivery industry through its products- Uber Eats and Uber Connect.
For using the service, Uber has various payment options including using a debit card (linking to an account), Mpesa and even, cash payments to ensure convenience when you require your next ride.
Little Cab
Little Cab is a Kenyan-owned ridesharing service that was launched through a partnership by the tech company Craft Silicon and telecommunications giant Safaricom in 2016.
The ridesharing service is defined as an automated transport solution offered on the go for consumers and corporate clients. It is available in several towns in the country including Nairobi, Kisumu, Nakuru, and Mombasa. In recent years, Little Cab has extended its service to other countries like Uganda, Zambia, and Tanzania.
To use the Little Cab private car service in Kenya, you would be required to first download its app off the Apple, Windows, or Google Store. Through the app, you will be able to register as a user and order a car to take you wherever you need to go. You will also be able to make payments using your debit card, Mpesa, and cash.
Alternatively, the Little Cab service introduced a WhatsApp service, and a USSD code (*826#) service in 2020, that would allow other users to access the service through their phones.
Little has various kinds of rides and vehicle services on offer like Basic, Comfort, Comfort+ and Little Boda. They also provide ambulance services, a shuttle service that connects different towns, and a service tailored to cooperate clients. To learn more about this Kenyan ridesharing app, visit their website.
Wasili
Another credible ridesharing app in Kenya that was founded by Kenyans is known as Wasili. The Wasili app was created to fill the gap of the lack of ridesharing taxi companies in Kenyan 'upcountry' towns. It makes access to convenient commuting easier for those who live in these smaller towns.
The app was first launched in Nakuru in the year 2018 but has quickly spread to cover towns such as Eldoret, Kitale and even, Nairobi.
Just like Uber and Little Cab, interested parties only need to download the Wasili app from Apple, Windows, and Google Play stores to have access to their services and pay via Mpesa or in cash.
Bolt (formerly Taxify)
One of the most used ridesharing apps in Kenya is Bolt, previously known as 'Taxify'.
In a statement by the company on the reason for the name change, Gareth Taylor, country manager for Bolt in South Africa stated that the new name 'Bolt' stood for fast, effortless movement – exactly what the experience of getting around in a city should be. It also underscores the company's belief that the future of transportation will be electric.
This statement holds true in Kenya where Bolt stands out by making the service available in many cities and towns which include Nairobi, Kisumu, Kakamega, Kilifi, Nyeri, Meru, and even, Embu.
If you are interested in using the Bolt taxi service in your town, download the app from Apple, Windows, and Google Play stores. Then, register as a user, select your destination, and finally, order your first fast and affordable ride.
Swvl
Swvl is a unique ridesharing taxi company in Kenya. Unlike the first four companies on our list which focus on providing private car services, Swvl works by embracing the carpooling approach of transportation.
The app-based service is available on smartphones and through their website and allows users to book trips, where after booking, commuters split the fare of a car with their fellow passengers.
In Kenya, the Swvl buses and vans operate on fixed routes, fixed prices, and timings, making it easier for people to plan ahead of time. The Swvl service is currently available in Nairobi and its environs and has inter-town trips from six towns in Kenya – Nakuru, Eldoret, Kisumu, Kisii, and Mombasa.
To stay updated with the latest news, trends, information in business and technology in Africa, subscribe to our weekly newsletter.