The Kenyan government has taken all its services online, including human resources. In this guide, you will learn how to register an account on the human resources system, GHRIS. Also, you will discover how to download your payslip online.
What Is GHRIS?
Government Human Resource Information System (GHRIS) is a portal that offers online HR services to public servants at the national and county levels.
On this portal, government employees can download their payslips and pending KRA P9 forms. Furthermore, both employees and the public can view lower cadre job advertisements.
Government employees can use the payslips when applying for bank loans, while the KRA P9 forms are necessary for filing tax returns.
GHRIS is accessible to employees working for the national and county governments, ministries, departments and agencies (MDAs), third party organisations like insurance companies, and the public.
How to Register a GHRIS Account
To register for a GHRIS account, you will need the following documents and details.
National identity card
Appointment letter
Mobile phone number
KRA PIN
Employment number
Personal email address
Once you gather these documents, you can proceed with registration. Note that the portal currently offers two login buttons, which could be confusing.
Here is the registration process:
Go to the GHRIS website.
Click the login button for newly appointed employees if this is your first time working for the government.

Click "First Time Registration."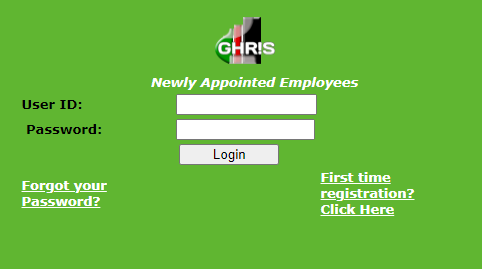 Fill in the activation form. This form will activate your UPN account. Also, ensure that you provide the correct information because it will be validated against your records in the ministry or department you are working. If there is a disparity between the two sets of information, you should visit your HRM unit.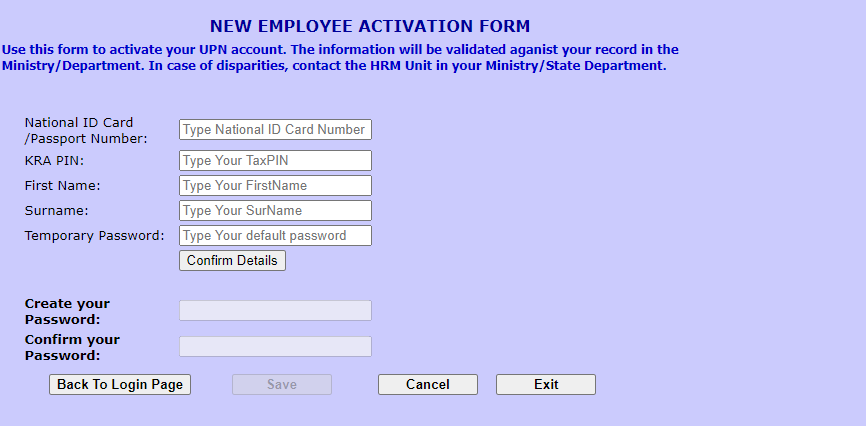 Click "Save" and wait for your account to be activated. It is unclear whether newly appointed employees should register through the other login button after their UPN account is activated.
For current government employees, use the other login button.
Click "Register Here."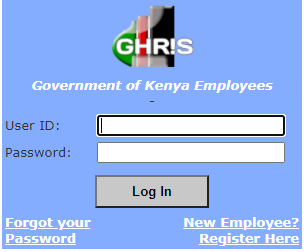 Fill in the details and hit "Submit."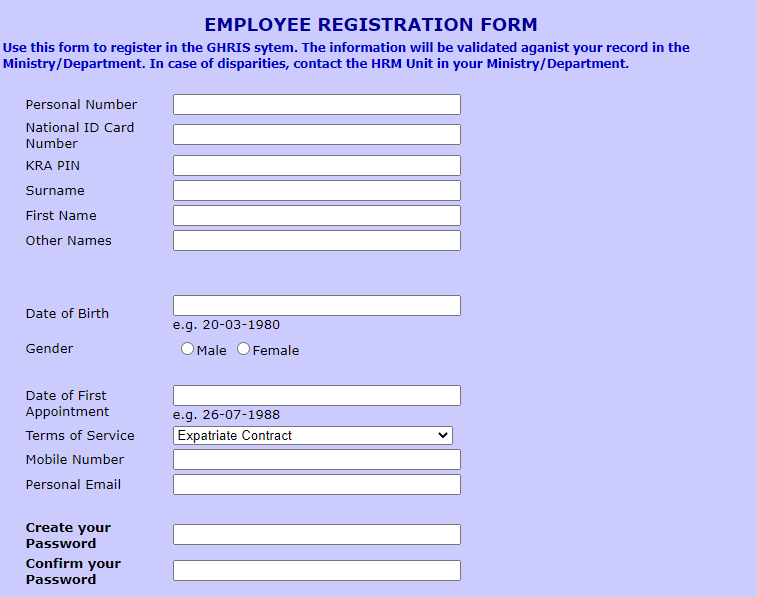 How to Download Your GHRIS Payslip
After creating an account, you can download your GHRIS online payslip every month. The steps below will guide you in this process.
Visit the GHRIS website.
Click the login button labelled "Government of Kenya" employees.
Enter your user ID and password and click "Log In."
On your dashboard, click "Current Payslips" and select the year and month.
Click "View Payslip." When the payslip opens, click the download button or print it.
In case you have forgotten your password and want to access your GHRIS payslip online, you can reset it as follows.
On the log in page, click "Forgot Your Password."
Fill in the reset password form and submit.
The platform will send a reset link to your email address. Click this link to enter the new password and confirm it. Next, log into your account.
Updating Employment Information
As a GHRIS user, it is up to you to ensure that your employment details remain up-to-date and accurate. Some of the details that you should add to your profile are copies of your original certificates and testimonials. That means you should upload any new certificates that you acquire to keep your information up-to-date.
To update your information, use the steps below.
Log into your account.
Click the tab labelled "Update Details."
Add or edit your information.
Click "Submit."
Contact Details
If you encounter any problems while using the Kenyan portal, you should email ghrishelp@psyg.go.ke. Alternatively, you can post a question on the portal's Facebook page. Keep in mind, however, that new content has not been posted on the Facebook page since 2013. You could also call 020 2227411. This is the phone number indicated on the GHRIS Facebook page.
You do not always have to use the contact details above. For instance, if you do not have some of the information required during registration, you can enter N/A in the respective fields. Also, if some fields are blurred, it means the system has retrieved information from other government systems.
The portal links to Integrated Financial Management Information System (IFMIS), Integrated Records Management Information System (IRMIS), G-Pay, and Integrated Payroll & Personnel Data (IPPD).
To receive updates on all things business and tech in Africa, subscribe to our free weekly news roundup.