As an economic hub, it should be no surprise that Johannesburg has some of the country's best coworking facilities. In this article, you will discover a list of the best coworking spaces in Johannesburg.
JoziHub, Milpark
JoziHub is an excellent coworking space in Johannesburg for co-creatives to share like-minded ideas and also work together. The coworking space offers services to help and support entrepreneurs that are making a technological impact in South Africa.
JoziHub offers:
Office storage space
Support and mentorship
Workshops
Events and conferencing
Partnerships
Mentorship volunteers
Jozi studio
Pricing:
Ad hoc workspace costs R50 a day
R850 per month per person
Location: 44 Stanley Avenue, Milpark Johannesburg, Gauteng, 2094, South Africa
Perch Co-Working Office, Rosebank
Perch describes itself as a gym for individuals who want to work. It's an accessible, affordable, and approachable workspace for anyone who wishes to work away from home.
Perch strives to accommodate everyone. They offer working spaces for startups, freelancers, seasoned entrepreneurs, and small businesses.
Perch offers:
Quite and peaceful working space
Centrally located
Community and networking opportunities
Events, workshops, and training
Amenities and services that include great fast Wi-Fi, printers, café and many more
24/7 access
Pricing:
Dedicated desks with 24/7 from R3,200 per month
Hot desk from R2,000 per month or R1,000 for a week
Pay-as-you-go day rate R250
Location: 37 Bath Ave, Rosebank
The J&B Hive, Braamfontein
The J&B Hive is a community of creatives and entrepreneurs. The coworking space equips individuals and teams with all the necessary skills and work stations to succeed. This office space has a large area that acts as a creative hub where people can socialize, network, host events, and work.
Additionally, J&B Hive has an accelerator program that helps individuals learn more about businesses.
J&B Hive offers:
High-speed Wi-Fi
Creative working spaces
Venue for events
The J&B Hive Bar
Networking events
Pricing:
Price varies, contact J&B Hive for different packages (info@thehivejohannesburg.com )
Location: 81 De Korte Street, Johannesburg Johannesburg, Gauteng, 2000, South Africa
Mesh Club
Mesh Club is a coworking space that encourages work and play for the increasing number of creatives and entrepreneurs in South Africa. This location is designed to handle both networking and working.
The coworking space is nicely designed, covered with art. There is a collection of murals and sculptures. Moreover, the lighting is just perfect for you.
Mesh Club offers:
Working areas
Screening room
Dining area
A lounge
The coffee station and acclaimed office bar
High-speed internet and printing services
Various networking events for members which may include wine tasting and movie screening
If you are a person who travels a lot then Mesh Club might be for you. A Mesh Club membership enables you entry to any of its coworking spaces across the globe. They are available in areas such as Singapore, Cape Town, Madrid, Budapest, Paris, New York, Nairobi, Lagos, Amsterdam, London, Stockholm, and Mumbai.
Pricing:
Hot desk membership from R3,891 per month
Dedicated desks from R5,950 per month.
Location: 21 Keyes Ave, Keyes Art Mile, Keyes Ave, Rosebank
Workshop 17
Workshop 17 offers an environment for entrepreneurs and professionals to collaborate.
The workspace offers:
A café
Access to the W17 community
Meeting rooms and boardrooms
Fully serviced work station
Printing services
Lockers
Concierge services
24 hours security
Pricing:
On the road from R1 760 per month
Light and full membership from R2 464 per month
Dedicated seat from R4 410 per month
Location: Workshop 17 has two locations in Johannesburg; West Street, Sandton, and Firestation, Rosebank.
Coworking Spaces Are Taking Over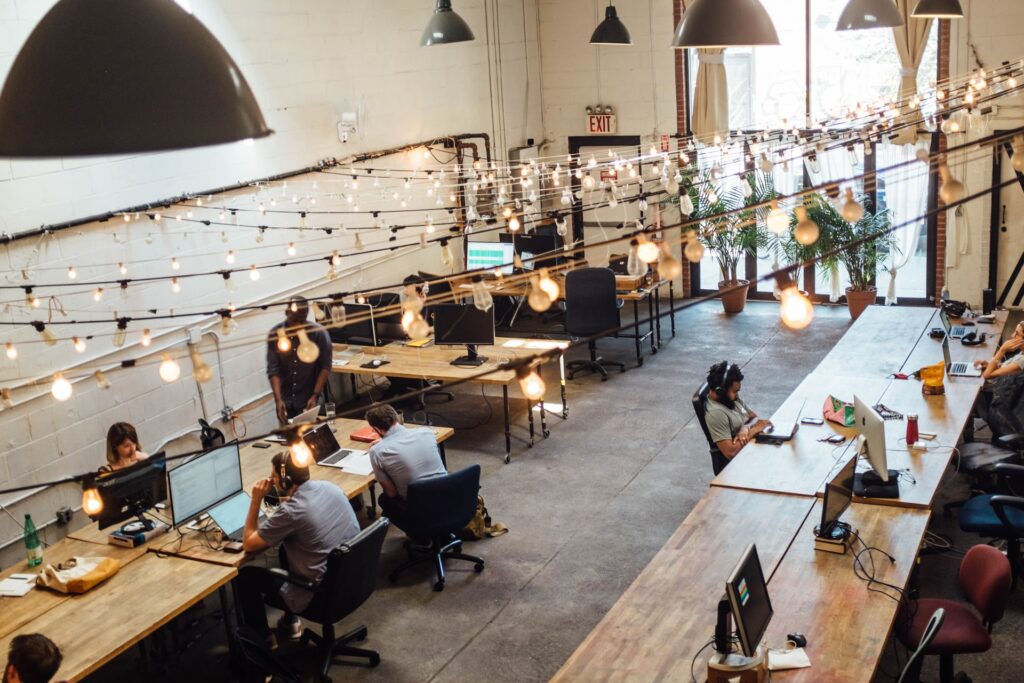 Coworking spaces cater to the ever-growing numbers of digital nomads, freelancers, remote workers, and startups.
In order for your career to flourish, you need a routine and a professional, inspiring workspace. Luckily, the City of Gold has all the right creative coworking spaces for you to work from.
Other coworking spaces in Johannesburg include SLOW in the City, OPEN, Doubleshot Coffee & Tea, and The Whippet.
To receive updates on all things business and tech in Africa, subscribe to our free weekly news roundup.